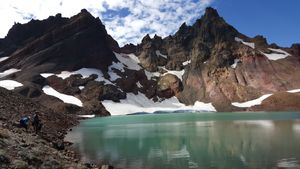 Located on top of a giant shield volcano surrounded by glacial mountains and ancient lava flows, the Central Oregon High Desert birthed a sound as unique as it's landscape. Not metal nor hard rock, but more like obsidian; Glossy and smooth, heavy and dark with dense layers.  
Born in what was once the isolated and sparsely populated Bend, Oregon, Andy Jacobs has been a staple in the local music scene since 1997. While playing for local bands such as Thought Police and Blame Amy, Jacobs began writing and performing his own music under the name Goodbye Dyna. Watch the story of Goodbye Dyna unfold over 20 years of progressive albums and eclectic songs inspired by real life, love, demons, and pop culture.
"Most everyone's mad here." 
Innocence descends to madness. Youthful naivety shatters in the chaos. Loss, despair and curiosity set in.
After watching the classic Disney cartoon Alice In Wonderland in 2002, Jacobs realized the story held a visual parallel to the sound he was trying to harness in his new music project. The project was then aptly named Goodbye Dyna, and Jacobs quickly went further down the rabbit hole.
Already influenced by classics such as The Beatles, The Beach Boys, and Pink Floyd, modern acts like Nirvana, Muse, Queens of the Stone Age, and several local bands Jacobs played in also played a large role in his songwriting. 
"I wonder which way I ought to go"
Are you ready to go down the rabbit hole?